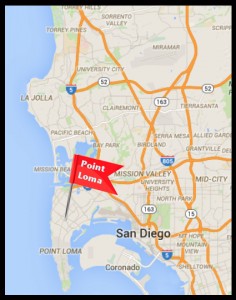 As most San Diegans already know, this city is a diverse assortment of small villages. Even though San Diego is the 8th largest city in the US, with all the advantages of a major urban area, it has managed to retain its small-town spirit. The energetic feeling of community is strong in San Diego's varied neighborhoods that have developed their own unique characteristics. There are more than 100 separate, identifiable neighborhoods. Time to choose yours.
POINT LOMA REAL ESTATE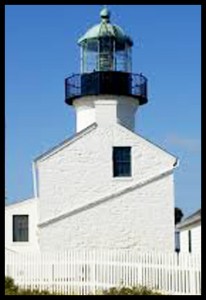 West of downtown San Diego is Point Loma, a hilly, wooded peninsula with stunning views of both the city and the Pacific Ocean. The first European West Coast explorer, Juan Cabrillo, landed on Point Loma, so it is known as the place "where California began."
The Point offers harbor and whale-watching cruises, sportfishing, and shelter for boats ranging in size from dinghies to world-class racing sailboats. With excellent restaurants (especially seafood!) and a casual atmosphere, Point Loma is a relaxed place to live.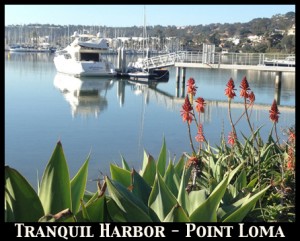 Point Loma is home to some of San Diego's most beautiful residences, and longest established neighborhoods. There are many "villages" within Point Loma, Roseville was settled by Portuguese fishermen and their families in the early 1900s; Liberty Station, an old Naval Training Center that has been decommissioned is filled with completely renovated attached townhouses and appealing single-family homes; La Playa faces the bay and is very historic and nautically-oriented. La Playa is Spanish for beach.
WHY YOUR FRIENDS WILL ENVY YOUR NEW POINT LOMA HOME: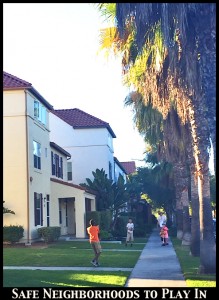 1. You are close to downtown, but also close to natural areas, e.g., tidepools, beaches, birding, kayaking, snorkling, fishing … the list goes on and on.
2. Great walks and bike riding
3. The tall trees that cover much of the area are old and beautiful
4. Great local schools
WHO LIVES HERE
1. Old, historic San Diego families
2. Military families and veterans
3. Many retirees, however young professional families starting to move in
4. People who love boating
WHAT TYPES OF HOMES
1. Multi-million dollar mansions on both sides of the peninsula that command magnificent, unobstructed ocean or bay views.
2. Tiny condos and everything in-between
AMENITIES
1. Walkable communities
2. Quiet neighborhoods
3. Close to nature
4. Best seafood in San Diego
5. Best place to anchor your yacht
6. Best swap meet in San Diego