As most San Diegans already know, this city is a diverse assortment of small villages. Even though San Diego is the 8th largest city in the US, with all the advantages of a major urban area, it has managed to retain its small-town spirit. The energetic feeling of community is strong in San Diego's varied neighborhoods that have developed their own unique characteristics. There are more than 100 separate, identifiable neighborhoods. Time to choose yours.
PACIFIC & MISSION BEACHES REAL ESTATE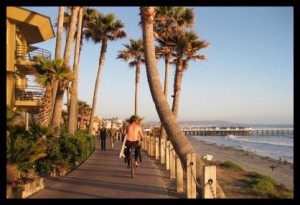 These lively SoCal beach towns are bordered by miles and miles of beautiful Pacific sand on the west, La Jolla on the north, the San Diego River on the south, and Mission Bay on the east. Thronging with beach lovers, Pacific Beach boasts restaurants, ocean-themed shopping, vibrant nightlife, and an historic wooden pier. Mission Beach has few commercial areas, but it has a genuine old-fashioned wooden roller coaster located in the iconic Belmont Amusement Park. Both towns are ideal for walking, skateboarding and bicycling; the concrete boardwalk on the ocean is over three miles long. The two towns share two waterfronts – the ocean and Mission Bay.
Many of those who live in PB are young, single career people in search of San Diego's legendary beach scene and are willing to live in tiny condos or share a larger one with several others. Apartment complexes that have been converted to condos are everywhere and are the residences of choice for this crowd. Sprinkled among the mid- and high-rises are smaller beach homes and some luxury dwellings. Pacific Beach is most densely populated of the beach communities.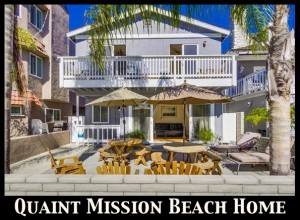 Mission Beach is a tiny peninsula only 2 blocks wide between the Pacific Ocean and Mission Bay. Stretching south from PB to the San Diego River, most cottages and condos are rentals that house students in the winter and tourist in the summer. There are few full-time permanent residents.
WHY YOUR FRIENDS WILL ENVY YOUR NEW PACIFIC BEACH OR MISSION BEACH HOME:
1. Best surfing in San Diego at Tourmaline Beach in PB, free parking included!
2. Best cement boardwalk on the West Coast – 3 miles long, with boarders, bladers, bikers, walkers, strollers, and runners
3. Over three miles of powdery sand and rolling surf on the oceanside, gentle swimming waters on the bay side
4. Renting your home on AirBnB or VRBO will be a snap.
5. Party-time is all the time
WHO LIVES HERE
1. The young and the restless
2. Young, single professionals
3. Newly divorced looking to hook-up
4. People who love the sand and surf
WHAT TYPES OF HOMES
1. All types of homes from small to large houses; mostly multi-family condos.
2. The closer to La Jolla, the more expensive the homes and sedate the neighborhood
LOCAL AMENITIES
1. The gorgeous beach on one side, the lovely Mission Bay on the other
2. Biking, boating and walking opportunities abound
3. The Crystal Pier in Pacific Beach
4. Belmont Park in Mission Beach
5. Great fish restaurants and hang-outs
6. The boardwalk is the best place to people-watch in San Diego. Think swimsuits on bikes, boards, strollers, and blades