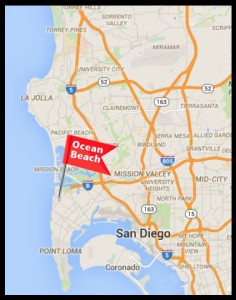 As most San Diegans already know, this city is a diverse assortment of small villages. Even though San Diego is the 8th largest city in the US, with all the advantages of a major urban area, it has managed to retain its small-town spirit. The energetic feeling of community is strong in San Diego's varied neighborhoods that have developed their own unique characteristics. There are more than 100 separate, identifiable neighborhoods. Time to choose yours. This page discusses Ocean Beach homes for sale and may very well lead you to finding one that works for you.
OCEAN BEACH HOMES FOR SALE
Ocean Beach is located on the Pacific side of Point Loma, west of downtown. Known as an old-fashioned SoCal beach town, OB was started in 1887 as Mussel Beach. Beach living requires tolerance—tolerance for the tourists in the summer, the inflated housing prices year-round, and the damp air that can settle in for weeks at a time. Those complications of beach life are quickly forgotten as soon as the sun peeks through the clouds.
Many free spirits have called OB home—the village was an enclave for hippies and flower children during the 1960s and 70s. They stayed on, bought houses and raised their children here. Although OB is a haven for surfers, beach lovers and classic VW vans, OB residents can be visionary – three of them actually started Comic Con, or another went on to become a billionaire using new ideas in technology.
WHY YOUR FRIENDS WILL ENVY YOUR NEW OCEAN BEACH HOME:
1. Splendid beaches and cliffs are steps away (really!)
2. Dogs rule and even have their own special beach
3. Close to downtown San Diego and the airport
4. A very walkable community
5. Within a year, you will own a large pile of gorgeous sunset photos

WHO LIVES HERE AND MIGHT BE LOOKING FOR OCEAN BEACH HOMES FOR SALE
1. Young professional families and singles
2. Free thinkers
3. Active seniors, eccentric folks, surfers and dudes
4. People who have lived here all their lives and know better than to leave>
WHAT TYPES OF HOMES
1. Historic beach cottages: generally, the closer to the beach, the older and smaller the home
2. Many attached and detached condos of medium size: 1000 – 1500 sq. ft.
3. Several oceanfront condos and single-family homes that are large and amazing! (and cost $1M+)
4. Small- to medium-sized, single-family homes with small yards on small lots built in the 20s, 30s, and 40s are in the 700K to 900K range.
LOCAL AMENITIES
1. Get up in the morning, listen to the surf report and go surfing before (or after) work.
2. The longest concrete pier on the West Coast
3. Laid-back beach environment
4. Great restaurants and local pubs
5. Antique malls with surprising deals
6. Boutique stores with one-of-a-kind, handcrafted merchandise
7. Public transportation directly to downtown
8. The marine layer – keeps the beach cool when everyone else is roasting.
9. To see what others are saying about Dan, please click or tap here: