WHICH SAN DIEGO WILL YOU LIVE IN?
As most San Diegans already know, this city is a diverse assortment of small villages. Even though San Diego is the 8th largest city in the US, with all the advantages of a major urban area, it has managed to retain its small-town spirit. The energetic feeling of community is strong in San Diego's varied neighborhoods that have developed their own unique characteristics. There are more than 100 separate, identifiable neighborhoods. Time to choose yours.
FIND YOUR HOME IN LINDA VISTA
Linda Vista, located directly north of Mission Valley as it opens up to Mission Bay, is famous for its prominent neighbor—the University of San Diego, a private college with an excellent reputation.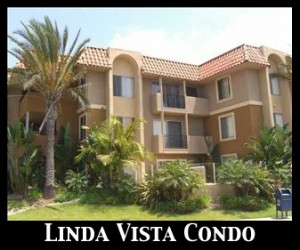 Many of the homes in Linda Vista were built in the early 1940s to house aircraft workers for World War II. Beginning in October 1941, over 3,000 houses were built in less than a year!
Current housing prices in Linda Vista are reasonable, considering its proximity to the exquisite shopping areas of Fashion and Mission Valleys, as well as Mission Bay and the Pacific beaches.
WHY YOUR FRIENDS WILL ENVY YOUR LINDA VISTA HOME
1. You have money to spend on other things besides your mortgage
2. You live in a nice residential area, with friendly neighbors
3. The nearby University of San Diego hosts many entertainment and sporting events.
WHO LIVES HERE?
1. Families with children
2. People working on an advanced college degrees
3. Undergraduate students at USD whose families purchased a home for them
4. People in office and sales jobs
WHAT TYPES OF HOMES?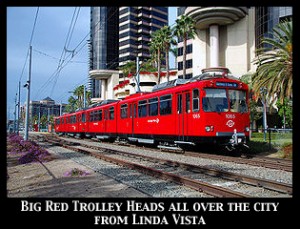 1. Single family homes
2. Duplexes and apartments
3. Condos
4. Manufactured homes
LOCAL AMENITIES
1. Close to the trolley for city-wide access
2. Close to Downtown, Mission Bay and the beaches
3. Lots of low-cost restaurants, pubs and entertainment venues