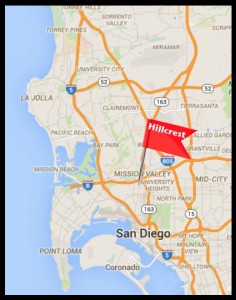 As most San Diegans already know, this city is a diverse assortment of small villages. Even though San Diego is the 8th largest city in the US, with all the advantages of a major urban area, it has managed to retain its small-town spirit. The energetic feeling of community is strong in San Diego's varied neighborhoods that have developed their own unique characteristics. There are more than 100 separate, identifiable neighborhoods. Time to choose yours.
HILLCREST REAL ESTATE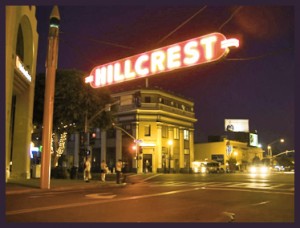 The Hillcrest area is best known for its tolerance and lifestyle diversity. All are welcome: young, old, straight, LBGT, singles, and couples call Hillcrest home. It is a lively, active neighborhood known for trendy restaurants, coffee shops, wine bars and unique boutiques, Hillcrest is bordered by Mission Hills on the west, Bankers Hill and Balboa Park on the south and Mission Valley on the north. Two of the best hospitals in the county are located here, so many healthcare professionals call Hillcrest home.
Hillcrest residents appreciate the proximity to downtown and Balboa Park. Often described as the hippest commercial district, the large, gay, politically active population has been crucial in revitalizing the area. Hillcrest has many neighborhood activities, including a fabulous farmers market on Sundays with fruits and veggies, of course, but also crafts, cooking, and arts; an annual Gay-Pride parade, City Fest—a celebration with local bands, beer gardens, children's area, and much more.
WHY YOUR FRIENDS WILL ENVY YOUR NEW HILLCREST HOME: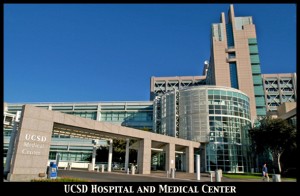 1. Amazing choices of restaurants, cultural events, boutiques
2. You can walk to everything
3. Great transportation to downtown
4. Balboa Park is right next door, so you can bike, walk, run as far as you want
5. Hillcrest is central to the entire city
6. Very active residents
WHO LIVES HERE
1. Doctors, nurses, hospital personnel
2. A vibrant LGBT community
3. Highest hipster ratio in the county
WHAT TYPES OF HOMES
1. Primarily multi-unit properties, from small cottages to multi-story condos
2. Some historic homes from the early 1900s that have been lovingly restored.
AMENITIES
1. One of the most vibrant food and entertainment hubs
2. Amazing bookstores, with nooks and crannies
3. Great health care is 3-6 blocks away
4. Exciting Farmers Market
5. Centrally located to the rest of the city
6. Diverse, lively, hip … what more can you ask?