WHICH SAN DIEGO WILL YOU LIVE IN?
As most San Diegans already know, this city is a diverse assortment of small villages. Even though San Diego is the 8th largest city in the US, with all the advantages of a major urban area, it has managed to retain its small-town spirit. The energetic feeling of community is strong in San Diego's varied neighborhoods that have developed their own unique characteristics. There are more than 100 separate, identifiable neighborhoods. Time to choose yours.
FIND YOUR HOME IN MISSION VALLEY OR FASHION VALLEY
Mission Valley is named for Father Junipero Serra's first mission in California, San Diego de Alcalá. The valley runs east to west between two overlooking mesas following the contours of the San Diego River.
Fashion Valley (also know as Mission Valley West) is located at the intersection of the San Diego River in Mission Valley with California Highway 163.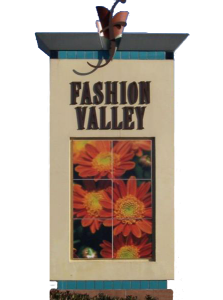 To San Diegans, the two valleys, Mission and Fashion, are synonymous with world-class shopping, but stylish (and expensive) condos, as well as modest and roomy multi-family units can be found throughout the area. The area abounds with malls, restaurants, sporting events, and theaters. Transportation is excellent and a large Veterans health-care hub is located here.
WHY YOUR FRIENDS WILL ENVY YOUR MISSION VALLEY OR FASHION VALLEY HOME
1. You are steps from shopping
2. You are seconds from restaurants
3. You do not need a car if you live here
4. Major employments center with thousands of jobs
WHO LIVES HERE?
1. Young, well-educated singles
2. Retirees who hate winter and can afford two homes.
3. People who work in "the valley" or downtown
4. Students
5. Professionals who travel frequently
WHAT TYPES OF HOMES?
1. Condos
2. Townhouses
LOCAL AMENITIES
1. Really close to the best shopping in the county
2. Great transportation to all parts of the city
3. Excellent choices for entertainment and restaurants
4. Central location
5. The best YMCA in the county
6. Close to two major universities and many branch campuses
7. Close to many parks and hiking trails