When putting up signs for an Open House last weekend a biker cruised by and shouted over his shoulder--- "When will the Bubble Burst ???"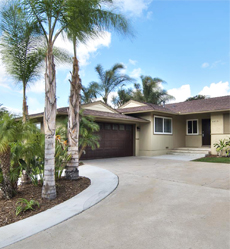 The next day when I took my dogs to the local Dog Park I met a young couple that recently moved to San Diego. We had a common prior residence location from another state. He told me he hasn't bought a home yet and was worried about the recent escalation of home prices and asked the same question as the biker.
Admittedly I have often had the same thought. Whether relevant, or not, I have been totally involved in Real Estate development, home building and sales during 4 severe market crashes for Real Estate and just cannot follow what seems to be the pretty common advice given to home buyers that home prices will simply keep going up and up and up. I find it pretty remarkable how historic and predictable market cycles are so easily dismissed. Of course, I also have a very analytical orientation to Real Estate from both education and experience and am pretty conservative predicting when and how much appreciation one will experience from a real estate asset.
This advice predicting rising home prices is historically accurate BUT the relevant variable will be when you buy and how long before you sell your home. I think "bubbles" can be identified and it is actually pretty simple to retrospectively look back and easily see how purchases during the rapid growth of the bubble, and close to the "pop", experienced lengthly periods of time to see market value recover to acquisition cost. If one lives in a "Bubble" house over a long period of time the economic downturns do not make a lot of difference. However if your residence tenure is short you can easily be like millions of homeowners who have seen their home basis higher than market value when they needed to sell their home.
So, What do I think about the "Bubble" in our market? It is my opinion that the "bubble" has started leaking in locations that are marginal. An illustration can be investor/flip houses that are hanging on as active listing for long periods of time or are seeing price reductions or falling out of escrow. It is my opinion that when you are seeing homes priced significantly higher than nearby , not remodeled, homes that this is likely not a prime market location. The old fashioned adage of having the least expensive home in the neighborhood is much better than having the most expensive home in the neighborhood.
The "leaking" is not as notable yet in prime neighborhood locations. However it is not uncommon to see higher numbers of price reductions and losses during Escrow even in better market locations. I think that the notable flush of investor purchases and low inventory has been a very strong influence on local home prices in recent years.
If this investor activity slows down then the market strength will depend upon the traditional drivers of job creations and incomes in our local market. It is pretty easy to see the modest strength of these drivers in our market where home prices are so high.
I do not think the "bubble" has burst yet but anticipate that we will see some reductions in price escalations in a time not too far away. I am not an economist, or a forecaster but this is my market intuition. It still make all kinds of sense for people to purchase their new home. I simply encourage prudence and practical due diligence for one to be sure that a home purchase is comfortable and not a tight or risky stretch.